Is the time of the physical customer meetings over?
Well, both yes and no! It is utopian to think that you will be able to create the same success with virtual meetings that you have had with the physical customer meetings – well, if you do it out of necessity and as a "temporary solution"
If you want to be successful with the virtual customer meetings, it not only requires a good connection and the physical setup – it also requires a mental adjustment, both with the seller, manager – and with the customer. And the latter you are co-responsible for that he/she will be joining the journey.
We do not live in the illusion that virtual meetings can replace the physical meetings – but we believe in the combination. And this is important, especially in our current situation with Corona – but it will also be in the future when we are affected by similar. obstacles – whatever the reason.
As I said, you will not achieve success if you simply set out the new guidelines and the sellers in desperation for sales and customer contact simply decide on a "Corona conversion". It requires a real transformation of structure, mindset and procedures, which include new routines and will include both the physical and virtual meetings.
We do not believe in a future only with virtual meetings, just as little as one with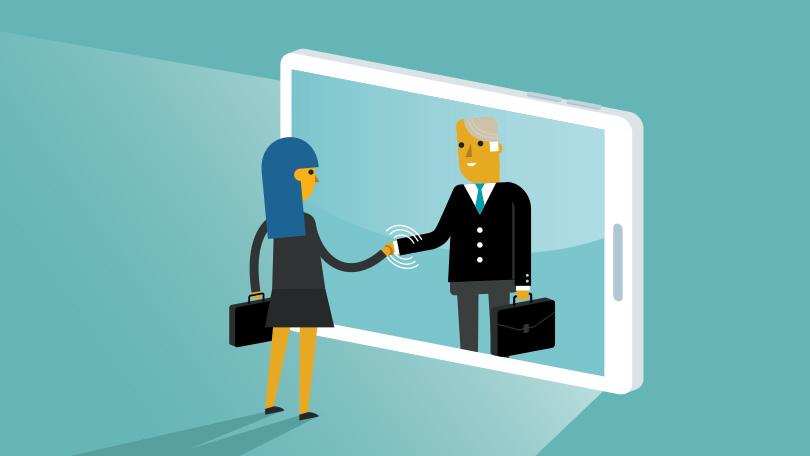 only physical ones. We believe in a new future that alternates between the 2. The strong ties and physical meetings can not be dispensed with if we are to ensure a strong relationship and a partnership with customers. The virtual meetings we must also adjust to, are still part of our future – regardless of Corona, environment, economy, etc., then they have come to stay – in the right setup.
Are you helping to embark on the journey to an economically and strategically sustainable future in sales? Start the process with our kickstart process.
The course includes:
1 startup workshop of 3.5 hours duration
You gather the sales department and possibly support functions for this workshop, which can be held as a four-night meeting. The purpose is for everyone to be involved and gain ownership of the process.
Over the next 3-4 weeks after the workshop, a strategy meeting will be held with selected participants, and this meeting will form the ground and direction for a further 2 workshops for relevant groups.
Then there is sparring, virtually and by phone in the integration phase, so that anchoring is ensured.
The goal is that from here you have the opportunity and tools to continue the journey towards the new world in sales and customer relations. Of course, we are happy to continue on the sidelines, but optimally, from here we have 1-2 facilitators/trainers internally who can drive the process, with or without sparring from us.