DiSC® Profiling and DiSC® Workplace is two of the most important tools, in both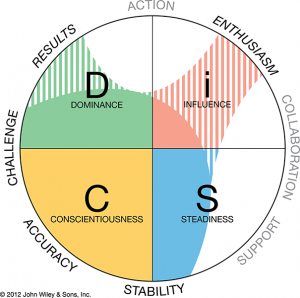 selecting/recruiting, onboarding and developing your employees and team members, as well as develop your team and organisation.
We at GROWU.AE is certified and trained DiSC consultants and facilitators in DiSC® Classic, Everything DiSC®, DiSC® Workplace and DiSC® Work of Leaders.
DiSC® can a great platform for workshops and work with team development, and processes where communication, cooperation and team work is a priority. So are you looking for a great tool for headhunting/recruitment or for team development, please contact one of our consultants.
We use DiSC as one of our primary tools when developing and coaching sales teams, individuals and leaders, and when working with group and team culture & cooperation. High Performance Teams is one of the benefits from DiSC workshops.
DiSC® measures dimensions of your personality. It does not measure intelligence, aptitude, mental health, or values. DiSC profiles describe human behavior in various situations—for example, how you respond to challenges, how you influence others, your preferred pace, and how you respond to rules and procedures. It measures tendencies and preferences, or patterns of behavior, with no judgment regarding value or alignment with a skill set or job classification. DiSC is a tool for dialogue, not diagnosis.
Look at this video for inspiration on how you can use DiSC® Workplace.